Virtual Office Houston Texas
Are you looking for a Virtual Office Houston Texas for your business? Look no further because Titan Business Suites is the solution to your business needs. With your business and our suite's amenities, we are confident that we can provide the tools that will take your business to the next level. Our clients value our business and our assistance with trying to secure a new client or maintain the business or an existing client. We are your teammate towards the goal of success.
About the Company
Titan Business Suites provide leases for a wide range of workplaces designed to meet the needs of your business. We offer affordable rates for our newly renovated and furnished offices with flexible terms. We also provide virtual services and virtual office packages that are perfect for our clients who have mobile businesses or only need temporary access to an office. As a bonus, we offer you and your guest free coffee, tea, latte's, cappuccinos, and even espressos to provide a welcoming atmosphere.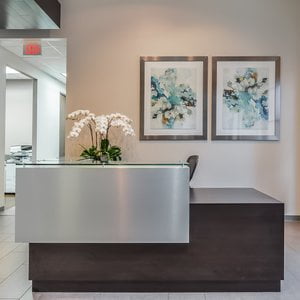 What We Offer
We take pride in offering modern amenities to our clients. For instance, our clients' guests are welcomed to park for free and are greeted with a professional lobby. There are high-speed internet connections available everywhere including in the contemporary, serviced lounge and waiting area. Our clients have 24-hour access to their workspace, which has an executive desk and chair with two guest chairs, clients can utilize our mailing address for their business documents. The meeting rooms are equipped with a High Definition TV(Apple TV 4K) and modern furniture to impress your clients.
Private Offices
Our offices are ready for move-in, and the occupancy terms are flexible and affordable. Clients have access to a professional receptionist to welcome guests and answer calls. Also, clients enjoy the availability of fax, copy, scan and printing services on site. State-of-the-art phone equipment with voicemail to email options are available, and clients even receive a 45% discount on FedEx services. Lastly, there are on-demand administrative services available. These services include notary services, data entry services, appointment scheduling, mail services, and forwarding, filing, scanning, and copying services.  This office is useful for any business at any stage of their journey.
Virtual Services
Our Virtual Services allows business owners to keep their business life separate from their personal life. These services are perfect for the beginning stages of your business and will help you organize your business entity. For example, clients are provided with a local telephone number and a receptionist to handle their calls. Also, they have access to the address for use on business documents such as business cards, company stationery, and website. The administrative services are available as an add-on service. We want to help you build the foundation for your business.
Meeting Rooms
Our meeting rooms will impress your guests as well as offer a professional environment that will increase your business productivity. For instance, our meeting rooms have the technical capabilities for clients to conduct conference calls. Clients can access visual aids and facilitate traditional meetings that will assist with securing new business and clients overall. Clients can book these rooms for as short as one hour or as long as one week. Use our meeting rooms as long as it takes to secure that big client.

We Want To Be Your Business Partner
We believe the right partnerships can evolve and elevate your business to success. Therefore, allying with Titans Business Suites will give your business the professional upgrade it needs to prosper.  We want to see your business to succeed and strive to offer the tools need to do just that. Our testimonials confirm that we are favorable business and will help you reach that next level. For information about our services or our private suites, contact us at 281.769.8181 or visit our website here. We are the number one Virtual Office Houston TX.
Fun Historical Facts About Houston
Houston, The Capital of Texas: Houston was the first capital of Texas. After Texas gained its independence from Mexico in 1836, two brothers wanted to form a city along the Buffalo Bayou. Ultimately, the named the city "Houston" after General Sam Houston. General Houston won the Battle of San Jacinto and later became the President of the Republic of Texas. Once the city of officially incorporated, the brothers convinced the general to name the capital after himself. However, the next president, Mirabeau B. Lamar, moved the capital to Austin. The two brothers, Champan Allen and John Kirby Allen, were honored through the naming of Allen Parkway which runs along Buffalo Bayo into Downtown Houston.
Hurricanes Were Helpful to Houston: At the beginning of the 20th century, Houston was not a big metropolitan area. In fact, Galveston was a bigger city than Houston. However,  the Great Storm of 1900, which killed thousands of people and destroyed many buildings, and the discovery of the oil resulted in the rapid increase of Houston's population.
Relief from the Heat in 1922: The cafeteria of the Rice Hotel received the first air conditioning unit in 1922. Before then, residents and business owner would place huge ice blocks in front of fans to find relief from the scorching heatwaves of the summer. The following year, the Second National Bank became the first fully air-conditioned building. The rest is history.
Fun Facts About Houston Today
Houston has one of the best culinary scenes in the nation. The city is the home of over 10,000 with culinary for more than 70 countries. Houston residents eat out more times in a week than residents from any other city in the nation. If you're looking for a particular taste, you are more than likely to find it in Houston.
Houston has the largest medical center in the world. The Texas Medical Center is over 1000 acres and contains 54 medicine-related institutions. It receives an average of 7.2 million people per year and performs more heart surgeries than anywhere else in the world.
The city is four populous city in the United States and the largest populous city in the south. Houston has approximately 2.3 million residents who speak more than 145 different languages collectively. As a result, we have the third largest number of languages spoken within the city limits.
At 20 feet below ground level and 7 miles long connecting 95 city blocks, Houston has an underground tunnel system. The tunnel initially connected two downtown movie theaters. However, today the tunnel connects significant downtown buildings, retail stores, restaurants, and so much more!!!
Houston is home to the largest shopping mall in Texas. The Houston Galleria opened in 1970 and currently has four floors filled with more than 375 stores. It even contains an ice skating rinks which is open all year long. It is the 9th largest malls in the United States.
For more information about this great city, visit the official website here.