Home
»
Katy TX Conference Centers Near Me
Titan Business Suites has Katy TX conference centers near me. Our office spaces provide a professional, convenient, and productive retreat for small businesses and large corporations alike. Office space on-the-go has become increasingly more necessary in recent times. Both, the business world has become more cutthroat, and remote work has become far more common. So, everyone, companies and individuals, have had to adapt.
That is what we are here for. Titan has a variety of solutions for the new way we do work. We provide virtual offices, private office space, and conference rooms for rent. And we are in a convenient location, offering easy access to meeting space in the West Houston area and near the energy corridor and Katy Mills.
In the past few years, more and more people have discovered the conveniences of working from home. And in the past year, many people unexpectedly began running their business from home. Plenty of people are discovering that this comes with some unfamiliar pitfalls that one would not normally encounter in an office. For example, it becomes nearly impossible to separate one's work-life from your personal life when working at home.
Private Offices
Our office spaces are fully furnished. We use rolling applications for them, so apply as soon as possible. They are perfect for small business owners. You will find that we offer flexible lease terms. We will be able to find a price that fits in your budget.
As one of our executive clients, the office building, and your office space is open to you 24 hours a day. It is built around your convenience. After all, it is your office. We set them up to maximize your comfort, productivity, and efficiency as you work.
The role of this office for any remote worker or small business owner is to give your business a professional image. It is absolutely necessary in today's corporate world. And every client or investor you interact with will want to feel like they are speaking with a competent company. Your own office with high-end office furniture does that job. Meanwhile, you are able to keep your business' overhead costs low.
Your Amenities
Every one of our executive clients that lease our private offices has our Katy TX conference centers near me available to them. These are perfect for holding anything from training modules to giving presentations to investors. You have complimentary access to over 1,000 rooms worldwide, perfect as touchdown office space for business on-the-go. Any client has monthly allocated time for these conference rooms. After that, they have deeply discounted rates on renting them further.
Beyond that, though, every client of ours with a private office has costs like janitorial services and utilities included in their lease. On top, there are plenty of others that keep your business running smoothly.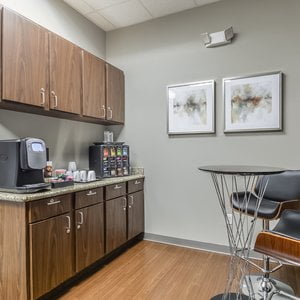 Our tenants' favorite has to be the in-office café.  Made of a mini kitchen, you have a cappuccino machine at your disposal. Whether you need coffee, tea, lattes, cappuccinos, or espressos, you are covered. Instead of getting nickeled at a rate of $3 per coffee through Starbucks, you can get a free caffeine fix here. This way, there is no interrupting the work schedule to leave for a coffee run either.
Many of the "amenities" at Titan you will soon consider as necessities. These business-related services include print, copy, fax, and scanning that you can get done with us. We offer your business high-speed business-class Internet service with either Cat6 cables or bandwidth bundled in with your lease agreement. With your Titan office suite, you get state-of-the-art telephone equipment and services with voicemail and email. Your business has use of a receptionist that will answer incoming calls. Plus, your lease comes with a 45% discount on FedEx services. Lastly, you have administrative services: scheduling, mail, notary, data entry, filing, scanning, copying, and forwarding services.
Virtual Office Spaces
As we said before, virtual work is becoming increasingly common. And many people are finding that giving up the office meant giving up more amenities and advantages than they expected. The separation of work and personal life alone makes a huge difference. While the traffic of a daily commute is rough, it turns out that the difference was more than the drive.
One does not need a full-time office to achieve this though. A virtual office is a perfect solution for this new problem. It prevents you from having to expend too much on a full-time lease that you would not use nearly as much. Instead, you have a retreat where you can productively crank out some clerical work. Or you can use it to meet with clients. It is a far better alternative to inviting them to the middle of your living room.
With a virtual office, you get the advantages of being able to add a business address to your business cards and stationery and a company PO box. You also get full use of our café and administrative services mentioned before. Most importantly, you have full access to our Katy TX conference centers near me.
Meeting Rooms
These Katy TX conference centers near me are set up to accommodate you for any business meetings or presentations you wish to have. Inside, there is enough comfortable seating for 10. You have use of free Wi-Fi, an HD TV monitor with HDMI adapters or Apple TV equipment, and glass dry erase board. With these tools, any guests, investors, clients, or partners will be comfortable, and you can give the perfect presentation.
Katy TX Conference Centers Near Me
So, if you are interested in renting out some office space, then you should contact us right away. You are sure to find a space that will satisfy your needs. Reach the Titan office by calling (281) 769-8181. Or you can email us through info@titanbusinesssuites.com, and we can begin to draw up a lease. Otherwise, our meeting venues are available for rent. We promise you the best customer service possible. We have the best Katy TX conference centers near me.
Katy Texas Fun Facts
"Old Town Katy" is the city's downtown area.
Heritage Park is known for its restored buildings.
Katy has several museums that honor the city's history, heritage, and veterans in the U.S.
For more info on Katy, visit https://www.cityofkaty.com/.